To read this in Japanese, please check the article before this one.
同内容の日本語の記事は、この一つ前の記事です!


★★★★★★★★★★★★★★★★★★★★★★★★
To avoid misunderstanding, I corrected some parts, however, the original info that I expressed are also explained in the content.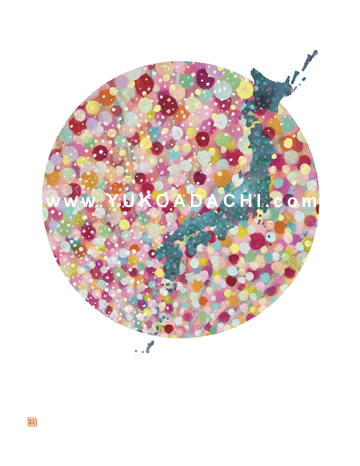 I am selling my giclee print "Prayers for Japan" for $20. I will be
paying all the printing cost out of my pocket and it is my goal to
donate 100% print sale proceeds that I receive the
payment through my blog to Japan Earthquake and Tsunami Relief
Efforts via American Red Cross. (
Adding this later:
I had to make a change in the policy so please read it carefully
till the end.
Thanks!)
"Prayers for Japan" is printed on premium archival fine art 190 gma
Entrada Rag Bright from MOAB series. It is 100% cotton with a smooth
white surface which makes it possible to reproduce vivid colors and
exceptional beautiful details. Created with combination of hand work
based on my original painting, drawing and mixed media works on paper
and completed digitally for the final print.
This giclee print is printed with fine art grade high quality Chrome
pigmented (the very best!) ink which are tested to last over 100 years.
I left a nice white border for easy framing.
The paper size: 8.5"x11" (21.59cm x 27.94cm)
"Prayers for Japan" print $20.
The print is signed "MOMEKO"on the front.
Watermark will not appear on your beautiful new print.
The purchase of the print will not transfer the artist copyright.
Copyright© YUKO ADACHI. All rights reserved.
HOW TO PLACE AN ORDER
CHANGE IN ORDERING and DONATION AMOUNT POLICY ANNOUNCEMENT!!!
25th March, 2011
Taking an individual print order via e-mail is CONCLUDED!
I am sorry but I have not done this before and I am just realizing that
it is way too time consuming to take an indivisual order and detailed
requests including local delivery and pick ups, review of actual work
etc, over many e-mails and organize everything on my own.
It takes so many correspondances to get one order processed and
I have not slept much for many days trying to get things done
but I can not keep doing things the way it has been! I have a life
to live as well!
However, I am determined to continue my "Healing Art Donation Project" and by processing your order online will enable me to work much more
efficiently.
Now you can purcahse directly at
Planet MOMEKO
instead of sending me your order requests via e-mail.
The donation from the online purchae will go to the U.S.
Fund for UNICEF (USF) to help children in Japan impacted by the
earthquake and tsunami.
This will not be an overnight fund raising plan for me but my heart is in it for the long term commitment. I want to stay realistic and make sure to create a healthy work environment for me to be able to continue
supporting what I can to help the cause.
On the online sale, please note that I will donate 100% "
profit
"
from the sale of the print "Prayers for Japan".
Any orders that I received through e-mail and confirmed orders so far,
100% of each $20 print proceeds will go to the Japan Relief as all the
printing cost is on me as I promised!
Originally I wanted to donated to American Red Cross to help Japan, but
I found out that in case they get surplus donation, they will allocate the
money to other casues, so I decided to look for a non-profit organization
which SPECIFICALLY uses the donation for Japan Aid only.
I will let you know the total here once all the orders come through and to
which organization the money will be donated to.
Thanks for your understanding and warm support!
★★★★★★★★★★★★★★★★★★★★★★★★
tag:東北地方太平洋沖地震, 支援募金、支援アート、寄付金、寄付、日本、地震、津波、東北地方、義援金、強力、東日本大震災、アート、美術、芸術、芸術家、日本人、東北地方太平洋沖地震緊急支援、日本赤十字、緊急災害募金、ボランティア、放射能、Red Cross Japan, Japan Relief Art, Japan tsunami, Japan earthquake, donation, funds, help, artists, art, Japanese artist, Japan disaster, Japan pacific earthwuake, Japan radiation, emergency